Click on the links to view alternative pages

Homepage
Meat For Sale
TV and Mags
Contacts
Recipes
Gallery
Comparisons
Stock for sale
Goat Care Courses
Other Livestock



Satisfied Customers
The goat sent week before last was amazing
10 Of this years female kids are now for sale
come and take your pick from this lot (and the others that moved too quickly for me to get them all in the picture)
£225 each
High health status, Closed, meat herd with 18 years of careful selection for viability.
( the adults in the pic are not for sale - these are the last few I've not had time to wean yet - roll on Saturday)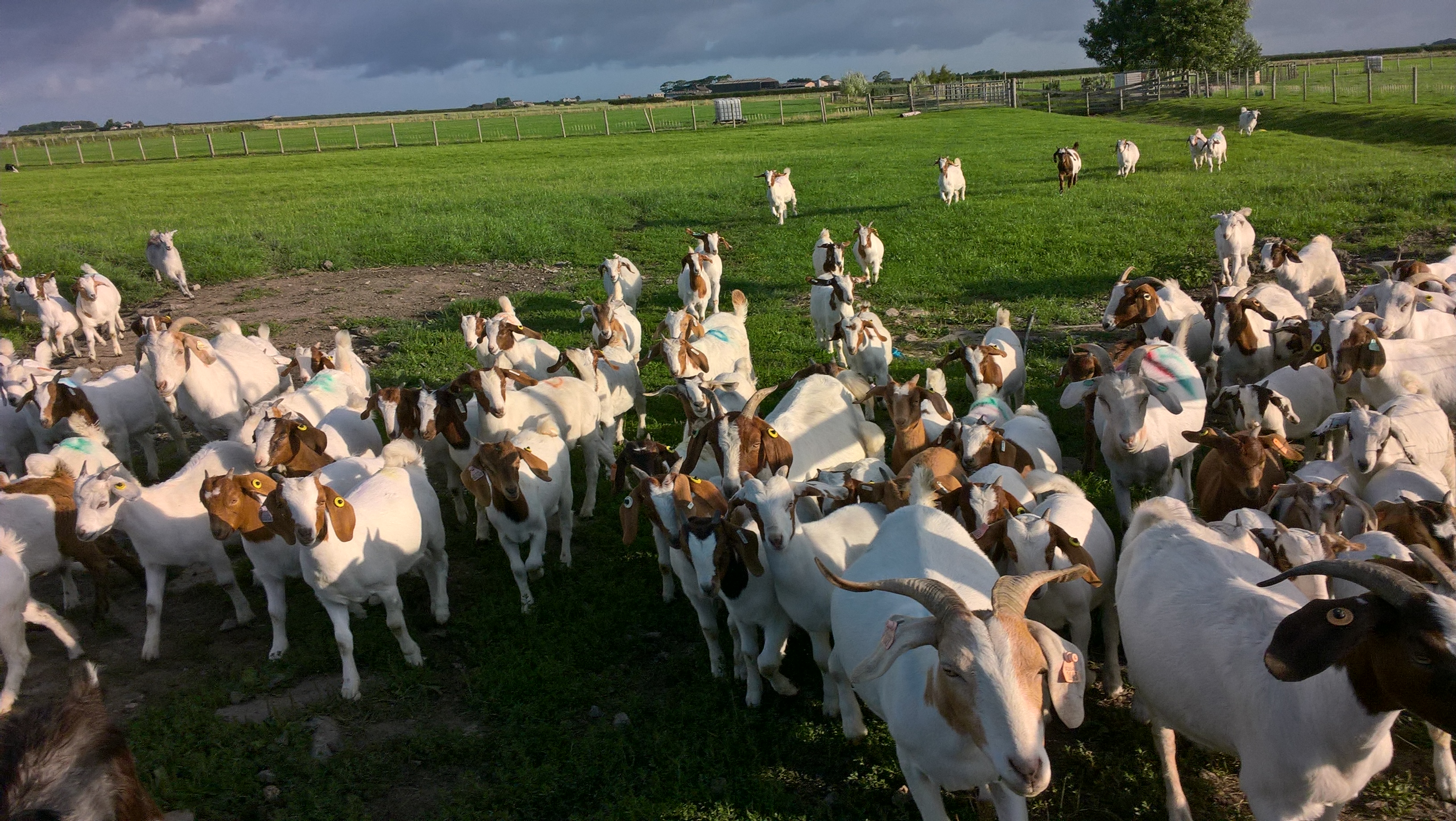 Cockerham Goats now has some female goats for sale. We have 5 adults and 14 yearlings.
These goats are all from our high health status (CAE accredited, CLA free, Scrapie free, Johnes vaccinated and closed herd for over a decade) All are selected for commercial viability as meat producers, they live outside year round and need little hard feed.
Most are register able at buyers expense with the BBGS, sometimes only at 50% from their fathers as a lot of our does are unregistered.
All are £225 (discount for 15 or more)
Please let us know if you would like more details or would like to visit the herd under no obligation to buy.
Photo 1 shows the adults - these goats were weaned 3 weeks ago and haven't had hard feed since their kids were 3 weeks old.


Photo 2 shows the yearlings which have wintered outdoors without hard feed, they have been away at our other grazing since April where there is only natural shelter, no hard feed and no forage.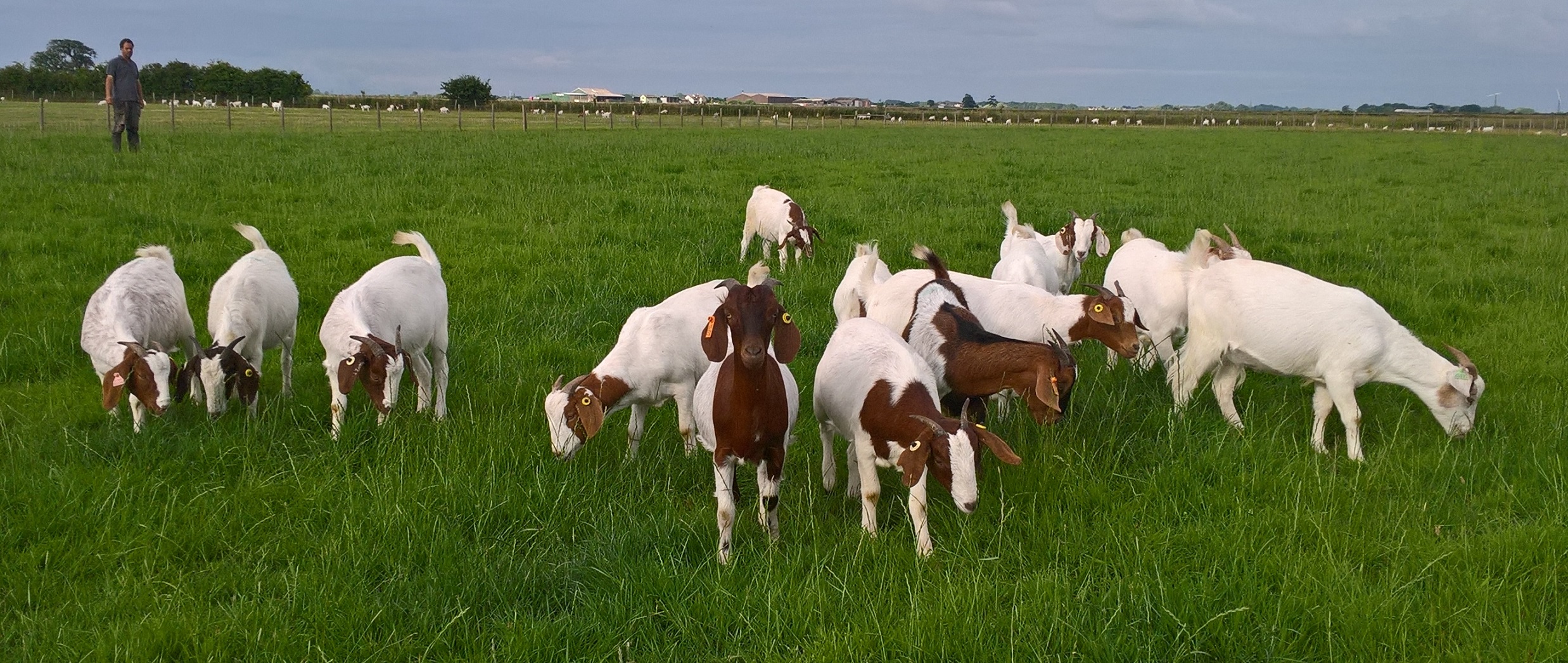 Cockerham Boers has been established since 2000 and we have worked hard to produce a commercially viable "British Meat Goat".
These are based on the Boer with the careful addition of other genetics including Cashmere.
This increases the goats' hardiness whilst reducing their input cost needs.
These goats should be able to spend large amounts of the year grazing with access to shelter rather than the more costly option of constant housing.
Feed requirements should be lower than with some alternative breeds.

Alongside efforts to reduce input costs Cockerham Boers have worked to increase output from the goats by gradually increasing the expected kidding percentage. (This is an on going project).
Whilst also extending the expected working life of the does.

Growth rates within our British Meat Goats are a little steadier than can be the case with Boer goats as we find the optimum time for best flavoured meat is around 12 months.
The aim therefore is to create kids which are finishing for meat between 9 and 15 months.
With a smaller number ready 3 months earlier or later which creates a year round supply of meat from a short kidding season.


Please contact us for more information or to arrange a visit to view the herd and stock for sale. Please contact us to be added to our notification list for when stock becomes available.





MEAT BREEDER MALES





Cockerham Boers often has available, in autumn, male kids to use in small herds, these are ideal for people with only a small number of does who do not want to keep a male year round. Buy one, tup your does then use him for meat.




Please contact us for more information or to be added to our notification list

* "Cockerham Boers" goat herd is run as a closed herd with a high health status. *
* It is CAE Accredited with the Scottish Agricultural College.*
* All kids enter into our herd treatment plan from 2 weeks old and will be Clostridial vaccinated, Johnes vaccinated, wormed and coccidiostated up to date with that plan. *
*Herd is free from Scrapie and CLA*
* All does routinely wormed and mineral drenched. *
Our goats are selected for their qualities as farm animals and are not particularly suited to pet homes


Homepage Meat For Sale TV and Mags Contacts Recipes Gallery Comparisons Stock for sale Goat Care Courses Other Livestock